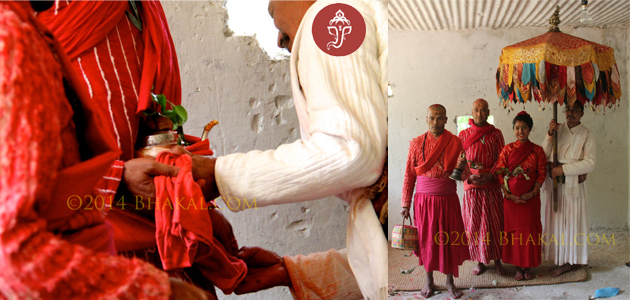 A team of Tantrics, capture Lord Rato Machindranaath and the chariot festival begins  – On this day of the year (Baisakh Pratipada or Paru) Rato Machindranaath is placed in the chariot that has been built at Pulchok to have him travel around in the city of Patan for the well being of the city and to ensure rain fall for timely start of rice planting season.  However, Rato Machindranaath is no where to be found in town today.
The legend goes, King Narendra Dev of Bhaktapur  along with the Tantric named Bandhu Dutta of Kathmandu, a handyman named Ratanchakra of Patan, and the serpent of Tau Daha called Karkotak Naag, originally brought Lord Rato Machindranaath to Patan to bring rainfall to Kathmandu valley and for the well being of the valley (then Nepal).
When Lord Rato Machindranath's mother (who accompanied her son to Nepal) left Nepal (now Kathmandu Valley) to go back home in southern planes, Lord Rato Machindranath also left his temple to follow his dear mother.  But the Lord is much needed for the well-being of the city of Patan, hence a team of Tantrics rushed to fetch the Lord back as the Lord and his mother were about to exit Kathmandu valley.  The tantrics fortunately caught up with the duo at the place called Chakra Tirtha (aka Katuwal Daha and Kuruwa), a place where Bagmati river exits Kathmandu and enters Makwanpur district.
However, the Tantrics were not only unable to convince Lord Rato Machindranaath to come back into town, but also the Lord was found to be very elusive.  So the Trantrics utilized their tantric spell to turn Lord Rato Machindranaath into a bee, which then the Trantics were able to trap in a Kalas (a traditional Nepali metal vase).  The Tantircs, then brought the Kalas back to Rato Machindranaath temple in Patan, where the bee was morphed back into Lord Rato Machindranaath with their tantric power again.  From there, the lord was brought on the same day to the chariot that was assembled at Pulchok to parade the Lord around in town.  From then on the Rato Machindranath Chariot festival began.
Four days after the lord is placed inside the chariot, the Rato Machindranaath chariot pulling festival begins.  The chariot is pulled thru the city of patan, which is a month long journey that ends in Jawalakhel.  On the last day of the journey, Bhoto Jatra (vest festival) takes place.  Thereafter, Lord Rato Machindranaath is brought to Bungamati temple in the southern outskirt of Kathmandu valley, where the lord resides for six months until the month of Mangshir, that is when the lord is brought back to his temple in Patan, where he resides for the rest of the year.